Hello Guy's vishal here and i am here to guide you which brand is good for better performance cpu intel vs amd
So first of all my suggestion is do not compare brand you can compare a processor like ryzen 3 vs intel i3 , amd a9 vs intel i3 but unfortunately you can't compare a brand but with the help of some PARAMETERS will try to Find better performace cpu for us.
The performance of any computer or workstation mainly depends on the type of processor installed in it. Among the different processors available in the market, there is always a healthy competition between the two leading giants – Intel and AMD. Like the rivalry between Android and iOS, the AMD – Intel competition grows continuously with each update being released. In this article, we can have a better understanding and comparison of both brands.
There are a set of parameters based on which the processors for systems are selected and installed. Those factors are as follows:
Price
Type of System
Performance
Graphics
Overlock
System Support
Availability
Future Updates
Price:
From the first impression, many people will come to the conclusion that AMD processors are cheaper than Intel's. It was when the company was working only with the basic, entry-level specifications. This phenomenon got changed when AMD introduced its upgraded RYZEN series processors in 2016. For the mid-range specifications, AMD's Ryzen 7 3700X is providing a 2 times faster performance at a cheaper rate (approximately 3600 rupees difference) when compared to Intel Core i7-9700K.
At the higher ends, AMD is offering a wide range of options, up to 32-cores variation while Intel's maximum offering is up to 18-cores. With the second-generation Ryzen chips, AMD has already started beating Intel at multi-threading processes and it is strongly believed by AMD that with the release of Ryzen's 3rd generation chips, they can emerge as winners in this long going competition.
Type of System:
The selection of the processor also depends on the type of system in which it is getting installed. For the past couple of years, AMD is slowly dominating in the case of desktops, while Intel is still maintaining its grip in the area of laptops. The one area where the processor selection can be tricky is Gaming, where performance matters the most in spite of the money paid. If gaming is the only choice, Intel can be considered as the best option and if any other tasks are also being performed along with gaming, then AMD can be selected for the performance it is offering at the reduced price. Nowadays, gamers also have one more option to select from – combined product from the AMD-Intel partnership which stands out as the best gaming machine appeared.
Performance:
Usually, system performance can be classified into two variants – single-threaded and multi-threaded. While coming to the single-core or single-threaded performance Intel is dominating AMD in both Workstation and Gamin performance. In the case of multi-threaded performance, AMD leads Intel due to the high core numbers and thread counts at a lesser price. Intel is hoping to change this situation with its GPU for gamers, releasing in 2020.
Graphics:
If we want to build a multi-processing or gaming PC, a dedicated graphics card or graphics processing unit (GPU) should be required instead of integrated graphics from CPU for powerful and demanding applications or games. Although, this integrated graphics is still capable of running games that require fewer graphics options. In this case, AMD is the winner over Intel with its Ryzen series processors which is integrated with powerful Vega graphics. This processor easily outruns Intel's integrated graphics options by the great edge.
In the case of high-end workstations or gaming PCs, Intel is most likely the champ due to its higher base and clock speeds. But with the continuous development of the Ryzen series, AMD is closely approaching the top place with the advantage of increased core numbers at a lower cost. Overall, as previously mentioned, if gaming is the only case, Intel is the best option whereas for multi-tasking AMD is the cheap and best selection.
Overlocking:
In case of a new system purchase, usually, it is locked at a specific clock speed value which can be unlocked based on our requirements. Usually, this unlocking will be done for faster and better performances. The overclocking capabilities of AMD are far cheaper than Intel. Also, in Intel, overlocking can be carried out only when the processor is a K-series one. But, with overlocking, maximum boost frequency can be achieved with Intel's processor (5.0GHz) when compared to AMD ones (4.6GHz). And even greater clock speed can be achieved with the high-end 18-core processor from Intel (6.1GHz).
System Support: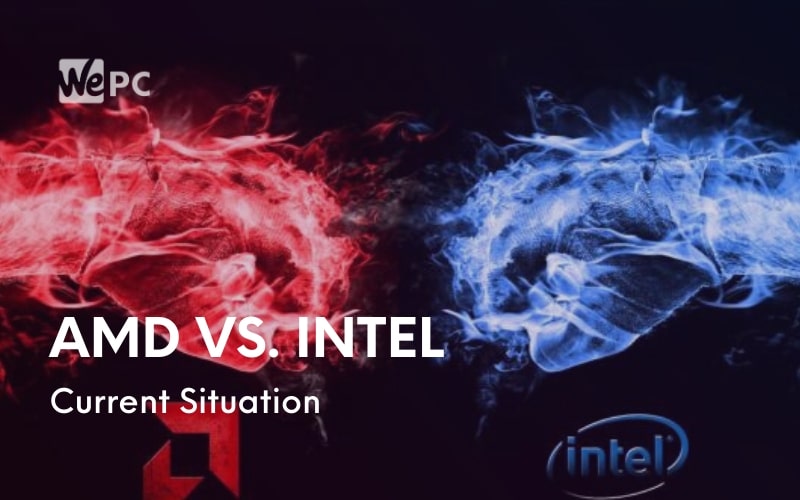 This is the place where AMD faces the major issue. It is desktop processors are lacking the compatibility with the other components of the system. A limited number of coolers and board options are available due to the result of socket differences between AMD and Intel. In the case of AMD, most of the desktops require specially made AM4 brackets to be used with Ryzen processors and only a finite amount of motherboards can handle the AM4 chips. From this point of view, Intel processors are more compatible at lesser starting costs. Intel also offers a wide range of options to choose from.
Availability:
This perspective is the main issue faced by Intel in the year 2019. While AMD's Ryzen and Intel's Ice Lake processors are currently available in the market, Intel is facing supply shortages for continuous market availability. This issue has caused a fall in Intel's stock value based on the unavailability and constant shipping delays. Due to this confusion and Intel's increased price value, AMD has got a lead and emerging as a winner in case of availability.
Future Updates:
For the past couple of years, with the Ryzen processors and continuous, improved updates, AMD is having a good time compared to Intel. Almost 50% of Intel's market share has been claimed by AMD already. If the updates to be released by AMD also maintains the same promising performance, the current scenario will continue.
Even though Intel is currently facing some issues, it has the most promising updates in line when compared to AMD like Gen11 graphics, high-end GPUs, etc. Along with this, Intel is also looking to provide an upgrade to its desktop processors, both in interface and graphics options.
Conclusion:
With the current state, for gaming or single-core option, Intel stands as the best choice whereas, for multi-tasking processes, AMD is a more suitable option than Intel due to its multi cores performance at the reasonable price.
Read More : Top 5 Best laptop under 40,000